The Aviva Jean is a relaxed wide leg cut that stays snug on your waist with room for your booty and thighs. No more pancaked booty or uncomfortable thighs. The denim is thick with 1% elastane for extra comfort and movement.
ON PRE-SALE: Estimate ship date 29th Sep
Find your flower fit here
More Details
- Low Rise | Mid Rise | High Rise (on belly button) | Super High
- Thick Denim
- Inseam Length Is 79.5cm
- Relaxed Wide Leg Cut
- 99% Cotton 1% Elastaine
- Bella (the model) is 169cm tall and is wearing the Poppy fit.
Sizing
We've ditched the sizing guides most brands follow, and created our own sizing based on women with an hourglass/pear shape.
To find your flower fit, you can refer to our fit chart. You just need to measure yourself and match your measurements with a flower fit. Our bottoms are designed to fit women with a smaller waist, bigger booty and thighs. This means that we keep the waist small while adding more room to the booty and thighs.
Shipping & Returns
Free shipping in Australia
Australian orders:
Shipping is free for all Australian orders. Express shipping is available for $5. Metro areas usually receive their order in 1-3 days.
Overseas orders:
The shipping fee for overseas orders is $20.
Please note that import tax and duties may apply and it might cost a lot. Please check the import rules of the country you are shipping to.
Returns & exchanges
You may return your order for a refund or exchange if your items are in their original condition. Returns must be placed in the post within 14 days of receiving your order. The cost of the return is not covered by Peachay. To learn more about our return and exchange policy, click here.
LET'S TRY IT ON
Let's try on the Aviva Jean! We will show you the fit, the material and anything else we think you should know before getting the Aviva Jean.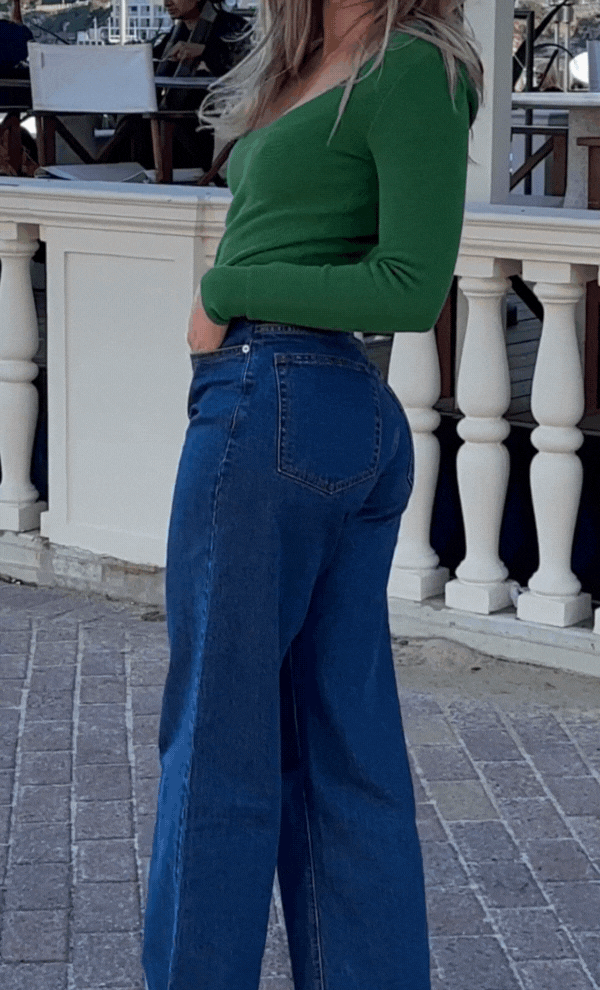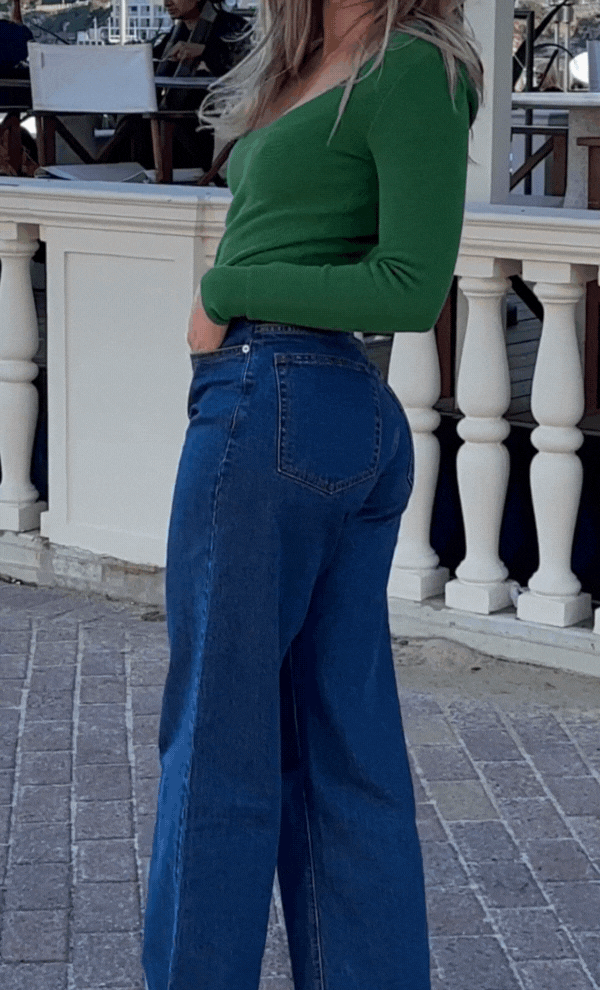 Haven't taken these off since they arrived...
Putting these jeans on made me realise that I've never owned a well fitting pair...until now. Never have i felt more seen and heard buying a pair of pants.
They fit perfectly everywhere, especially through the thighs, and the denim is such great quality even after a few washes.
If you're an avid gym-goer these are the most perfect pair of jeans to fit you in all the right places!!!
Where have you been all my life?!?!
I was nervous to try these jeans on when they arrived because I was so desperate for them to be perfect- they absolutely were! 🎉🎉
The jeans are snug on my waist and my thighs don't look like they're about to burst out of the seams 😅 have literally never experienced that before 😂
If you're sick of only fitting into pants with elastic waistbands, or coming out of change rooms dejected and holding 10 pairs of jeans which all gave you the dreaded waist gap, then get these jeans! Those days are over 🙌
The fit, the colour, the length, the back pockets (super important!) are all 😙👌
Additional bonus: peachay's customer service is wonderful!
The perfect pair of casual jeans
I am an Australian size 8 and bought the Tulip fit. These are my new go-to pair. The jeans fit in all the right places, they are tight around the waist but give you room around your thighs and butt. The royal blue colour is so beautiful. This is my second pair of Peachay jeans and I couldn't be happier.
The best jeans ever! ❤️
I can't stress enough how amazing these jeans (and this brand in general) is!
I was on first name basis with my local alterations lady as I'd need my pants and skirts taken in at the waist every single time… no more! It's like these were custom made to me, they fit me like a glove, insert cliques here… but seriously, absolutely 👏 amazing 👏
They fit perfectly, show off my small waist and make my 🍑 look great. I also have the Luna skirt and the shorts (can't remember the name). But they are all perfect. In love ❤️
And to finish my essay, Joy and the team are so lovely. So helpful when I needed a different size and when I had a zip break, they fixed it for me free of charge, amazing customer support. Would 100% recommend these jeans and this brand!
Unreal fit
BUY THE JEANS. I can't hype these up enough, they are just the best. I'm a 12/14 and this is my third pair of 'Rose' jeans from Peachay. Snug and the waist, flattering on the butt and with the most perfect gentle stretch through the leg. If you've been umming and ahhing, take the plunge x